The future diversified development of the indoor advertising machine industry
Views: 0 Author: Site Editor Publish Time: 2021-03-01 Origin: Site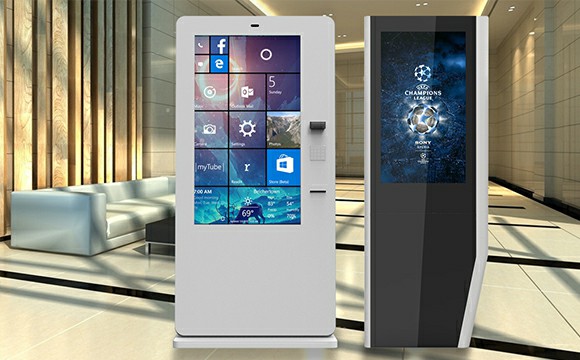 indoor

The future diversified development of the advertising machine industry
1.More personalized content
With the development of technology, understanding the relevant information of the audience group can better provide targeted content, and combined with the development of the mobile Internet, the content will be more personalized. In the future, advertising machine display content will be more targeted and can be associated with many dynamic factors, such as weather, inventory, latest information, and so on.
2.Wireless data network
The same type of network connection as a smart phone will effectively simplify the editing of advertising machine information, and information can be updated at any location. The wireless network will allow the LCD advertising player to have a faster and safer network connection, just like smart phones and tablet computers. For example, mobile advertising machines can be used in conjunction with mobile electronic devices such as mobile phones and tablet computers, and the two networks can be shared.
3.Mobile smart interaction becomes mainstream
In the future, interactive functions will become the mainstream of the advertising machine industry. It can interact with consumers through visible and vibrant content, and companies can also use coupons and promotional activities. Combined with the advertising machine, it can provide consumers with the content they need, simplify the consumer's participation process, and let them change from passive reception to active reception. Just like the mobile big computer TV advertising machine, it integrates all the functions of large-screen computers, high-definition TVs, high-definition displays, high-definition advertising machines and other products, and can be used in conjunction with mobile electronic devices such as mobile phones and tablets to achieve human-computer interaction. Features. In the future, the latest single products, best-selling products, discounts and promotions, news events, popular online videos... and WeChat promotion and interactive activities that increase user viscosity can all be easily completed in the advertising machine system.
4. Indoor P2.5 full color
The LED screen can be installed to play video/slideshows, and it can also play dazzling colorful materials of stage and te effects. Generally, P2.5 models are mostly used. Large-scale display devices made of seamlessly spliced ​​modules are used to play TV programs/videos/pictures. In the past two years, due to the vigorous promotion of small spacing in the market, more and more fields have achieved perfect matching applications with small spacing LED displays. For example, in the field of monitoring display, large LED display screens have the characteristics of multi-area and arbitrary partition display. It is a three-screen, six-screen, nine-screen and other multi-screen and multi-window display. LED full-color screens are developing toward smaller and smaller pitches and higher resolutions, and they can be customized in many ways.
Shenzhen Xinhaishi Electronics Co., Ltd.(Abbreviated as \"Xinhaishi\") was established in 2009 and is now located in Guangming District, Shenzhen. As one of the early domestic manufacturers of liquid crystal display equipment, after years of development, it has now developed into a collection of R&D, production, sales and Service-integrated innovation and development enterprise. The company's independent \"Xinhaishi\" brand has developed rapidly and has become a brand with good product quality and good reputation in the commercial display industry. The products are sold at home and abroad, and have been unanimously recognized and praised by customers.
The company's main products are: LCD advertising machine, touch all-in-one, conference touch all-in-one, teaching touch all-in-one LCD splicing screen, LCD monitor, outdoor advertising machine and other commercial display products, the product size covers 10.1 inches -110 inches, and the products are adopted High-quality raw materials are fully developed in accordance with Chinese standards, with features such as refined appearance, low power consumption, high quality, high sound quality, and high picture quality. Product quality is reliable and has successfully passed China's compulsory CCC certification, CE certification, FCC certification, ROHS certification, ISO9001: 2015 quality management system certification, outdoor IP65 test report, outdoor low temperature test report, outdoor high temperature test report, etc., to ensure product performance and safety . Products are widely used in government, hospitals, stations, commercial buildings, supermarkets, subways, hotels, education, real estate, cultural media and other industries.