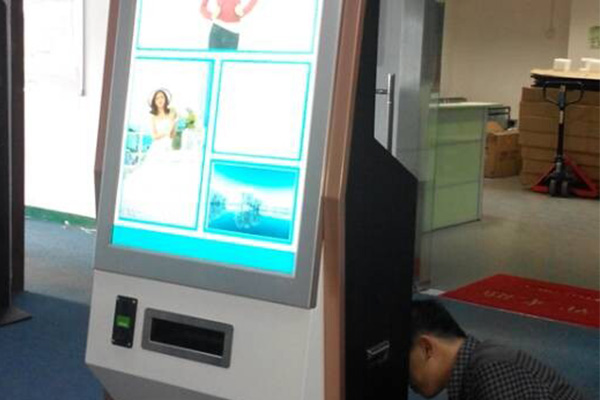 WeChat advertising machine, also known as \"WeChat printer\", Omar Smart WeChat advertising machine is an advertising push platform based on the mobile Internet, using WeChat photo printer as a support to place advertisements on the screen. Accurate and rapid dissemination of corporate information through WeChat advertising machines, thereby enhancing corporate visibility and acquiring a large number of customers for the company. In addition to advertising, the WeChat advertising machine can also use the QR code to help the enterprise marketing, so as to achieve the effect of advertising promotion.
Omar Smart WeChat advertising machine, printing through WeChat, only takes 10 seconds to print out your favorite photos through WeChat, presenting the dual attributes of photo printing entertainment and media advertising, realizing the perfect combination of WeChat online and offline , Created the WeChat offline \"experience marketing + sticky marketing + entertainment marketing\" personalized marketing plan. Through an entertaining photo printing, the player paid attention to the merchant's WeChat public account while consuming, and became a potential customer for business opportunities. , I watched the print advertisement and video advertisement on the printer at the same time, and took the photos with the business advertisement home to realize the continuous return of consumption and advertisement.
Features of WeChat printer:
1. Experiential marketing \"WeChat plus fans\"
2. Experiential marketing \"video advertisement, graphic advertisement\"
3. \"Photo printing\" of experiential marketing
4. \"Value-added services\" of experiential marketing
Just scan the QR code of the merchant on the machine and pay attention, then send the photo you want to print in your phone, and press the operation to print out the postcard you want.
The characteristics of WeChat printers: convenient, real-time, fast, efficient and attractive.
Operating venues: shopping malls, stations, hotels, hotels, KTV bars, Internet cafes, gyms, schools, parks, squares and other places.
Value Analysis:
Photo printing: replacing traditional photo printing shops
Traditional photo printing shops have weak trends due to many factors such as outdated operating models, increased labor costs, and declining market attractiveness, resulting in huge operating pressures.
Compared with traditional advertising machine:
1. Our online and offline resources are perfectly integrated;
2. The functionality of the equipment determines that the attention rate of advertising information has increased several times;
3. Words define advertisement content, terminal selection, playing time, duration, and frequency, making advertisement management more convenient;
4. Freely split the screen to make the way of advertisement playing more flexible.
WeChat advertising machine creates brand-new entertainment consumer demand, convenient personalized entertainment products; popular products brought by high interactivity and continuous attention trend products; integrated products that carry commercial entities, consumer groups and social network interaction; low Commercial products with investment, high return and quick results; mainly serve high-end consumers and personalized consumers, and strive to create a reputation, a commitment, and a culture, and concentrate its information in every product and marketing In detail, we focus on long-term development and create a broader and far-reaching market.
Combining the WeChat platform, innovating advertising delivery methods, focusing on long-term business operations, focusing on merchant brand marketing, and boosting the growth of brand WeChat fans, both online and offline will bring continuous, effective and perfect marketing effects.